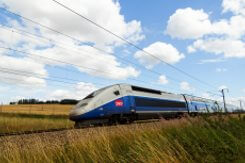 TGV (Train à Grande Vitesse) is the most popular high-speed train in Europe. It was produced in France but now TGV trains operate also on routes to Switzerland (TGV Lyria), Germany (TGV Est) and also Spain and Italy. The TGV rail system is managed by the French national rails SNCF.
In France alone the TGV trains reach even the most remote parts of the country offering fast connections (up to 320km/h) to over 400 destinations. French high-speed trains are famous for their reliability and punctuality. These modern trains can offer the passengers the highest standards of travel – the interiors of the carriages are spacious and they have modern design, air conditioning and comfortable seats.
Technological solutions used for operating trains, air conditioning system that adjusts automatically to the number of passengers or the energy efficient lighting make the train environment friendly.
The TGV passengers can select one of two classes of travel, parents traveling with children can count on additional facilities such as additional space for families. Moreover the TGV trains have also facilities for disabled passengers.
First class
Second class
Passenger can book single seats that ensure more privacy, they are equipped in power sockets for laptops or telephones. The seats are bigger than in second class and can be automatically reclined. On some routes there is a possibility to order a taxi by the train manager.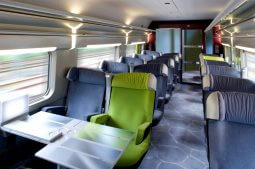 The second class is equipped with comfortable seats, bar and restaurant compartment. There is also possibility to book space for groups, so called "Kiosque for groups".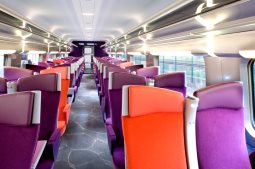 See more about high speed European trains