By Frecciarossa train through Italy
You may come across many cheap flights to Milan, Bologna or Rome that fail to reach your indicated destination. You may rent a car at the airport and continue your journey or commute across the country. However, there are people who wish to sightsee alternatively and renting a car is beyond their reach. Go by the Italian train.
Italian high speed trains
Types of high speed trains are as follows Frecciarossa, Frecciabianca and Frecciargento.
The Frecciarossa trains
The fastest and the most luxurious Italian Frecciarossa Trains (Red Arrow). ETR500 services - beautifully designed - can reach up to 360 km/h. Travel by the train from Rome to Milan lasts merely 3 hours and 25 minutes.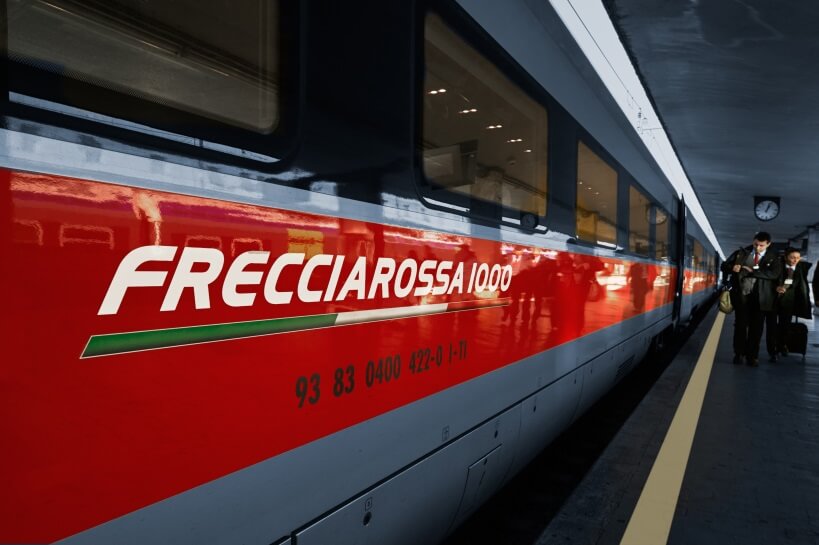 The Frecciarossa cars are perfectly soundproofed and equipped with air-conditioning. They possess high-tech chairs similar to those used on airplanes. Passengers may use the power supply sockets as well as the wireless Internet connection (it is possible to wire connect a laptop). Every visitor will be welcomed with a drink and the morning press. On board, there are displays informing about the current speed and stations. Men and women have access to seperate toilettes! On train you may hire a business hall or a restaurant car. There are also special luggage compartments in the vestibules of the cars. The tidiness is the kept by the cleaners crew at all time. The Frecciarossa service is 4 first class cars and 6 second class cars. The high speed trains in Italy connects such cities as: Naples, Rome, Florence, Milan, Turin, Bologna or Salerno.
| ROUTE | TRAVEL TIME |
| --- | --- |
| Bologna - Florence | 37min |
| Turin - Milan | 1h |
| Rome - Naples | 1h 10min |
| Milan - Florence | 1h 45min |
| Rome - Milan | 2h 59min |
| Naples - Milan | 4h 10min |
| Rome - Turin | 4h 13min |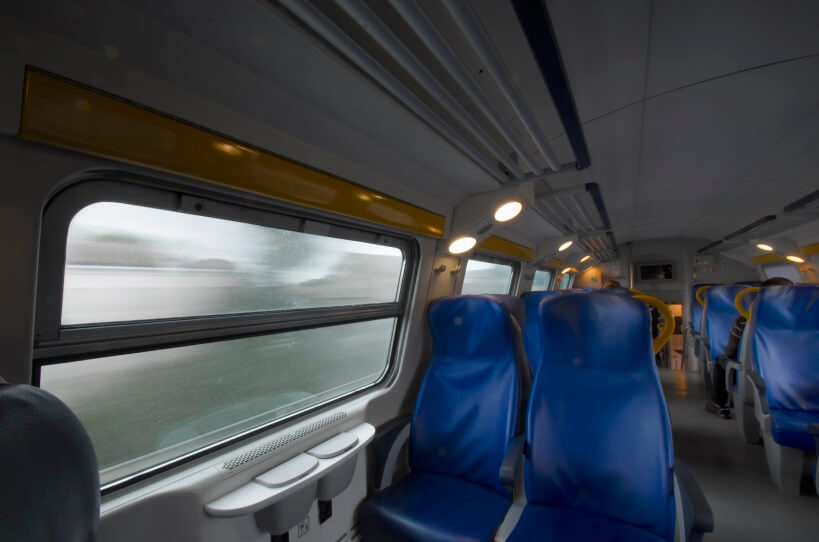 Cars classes:
STANDARD
the equivalent of the second class
the chair width is 55,5 cm
reclining backrests
isle between the chairs is 106 cm
PREMIUM
the equivalent of the first class
leather seats
the chair width is 55,5 cm
reclining backrests
isle between the chairs is 106 cm
free welcome snack
free welcome drink
free papers
BUSINESS (additionally with conference compartments)
the chair width is 64 cm
reclining backrests
feet pads
isle between the chairs is 106 cm
silence zone (16 seats)
free welcome snack
free welcome drink
free papers
EXECUTIVE
8 seats in the car
the chair width is 69 cm
reclining backrests
feet pads
isle between the chairs is 150 cm
conference hall for 6 people
free cold drinks
free snacks
free meals
free newspapers
FrecciaClub access at the major railway stations
Book your Italian travel ticket now online. Only on our website - PolishTrains.eu