Swiss panoramic railways - Cheese Train
Switzerland is a beautiful country with lots of tourist attractions. The best way to sightsee it is by one of many panoramic trains. The panoramic trains are designed in such a way that you could watch and admire changing landscape outside. Travelling by those trains is extremely versatile and could be a great adventure.
Switzerland belongs to the top of the world cheese consumers. Regardless the state, be it delicate, spicy, mild or cream cheese, 21 kilograms of cheese per person is eaten every year.
Cheese Train
Travellers coming to Switzerland have the possibility to taste that traditional specialite when travelling by the Cheese Train from Montreux or Zweisimmen to Château-d'Oex located on picturesque Lake Geneva. This journey leads through landscapes, cousine routes and Alpine culture.
Since 2013, the Cheese Train allows you to discover the secrets of the most popular dairy product of Switzerland. The Cheese Train is one of the most popular attractions in winter. Starting from January up to end of April, every Friday, Saturday and Sunday, you may choose a one-day train trip through Montreux-Bernese Oberland.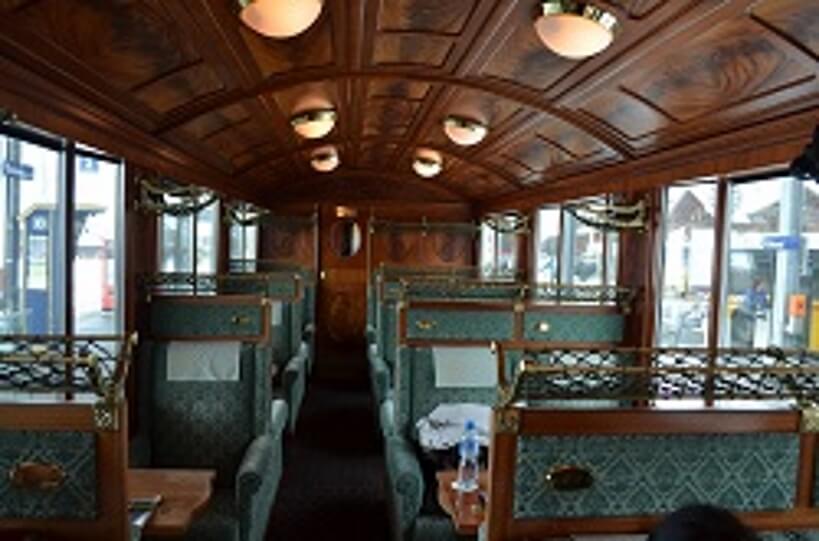 Before you enter the Cheese Train, the crew offers you a drink (included in the ticket price). On the board itself a first class passenger may enjoy the fabulous Pullman "Belle Epoque" cars while enjoying pieces of cheese and marvelous views outside. The Passengers are accompanied by a guide.
Railway for tasting
After reaching Château-d'Oex - it's a Swiss settlement located in Vaud canton in Swiss Pre-Alps - the Le Chalet restaurant will welcome the travellers, where they may see traditional cheese production done by qualified cheese makers. In Chateau d'Oex travellers discover how 200 liters of milk transforms into Le Chalet Bio cheese. After the presentation you may taste that original and delicious bio fondue cheese in Le Chalet restaurant
Du Pays d'Enhaut Museum
After that delicious adventure you may feel like visiting Du Pays d'Enhaut Museum, genuine folk museum. Variety of handcraft and art are gathered there. The museum attracts its visitors with unique, traditional paper cut-outs as well. This is the last stop of that incredible journey.
Tickets for the Cheese Train panoramic train journey can be booked and purchased on our website – PolishTrains.eu