French TGV trains
France was the first country to introduce the high speed trains. Contemporary, TGV (Train a Grande Vitesse) is the most recognisable make of the high speed trains in Europe. They represent modernity, speed, comfort and civilization success. The TGV network in France covers 2 thousand kilometers of high speed trains connections. On the 3rd of April 2007, the TGV train broke the speed record running at 574,8 km/h in the latest TGV Est line from Paris to Strasbourg.
By train across Europe
The railway network in Europe is extremely expanded and connects the remotest parts of the continent. Thanks to which, train travel is the best way to sightsee the European countries. Nothing stops you to start your journey in France and travel to Switzerland, for example. TGV Lyria offers such connections. The company is owned by SNCF. That contemporary renovated train connects such city like: Paris, Lausanne, Bern, Geneva, Zurich, Basel, Marseille, Montpellier and Nice.
All the TGV Lyria routes from France to Switzerland are modern designs, they have comfortable chairs and space for legs. The offer allows to choose from three booking classes: Economy Class, Comfort Class, Premier Class (selected routes).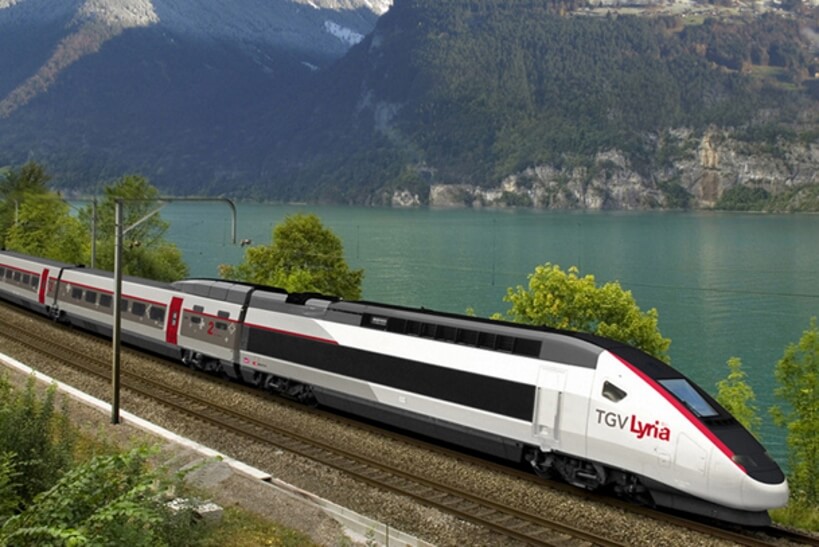 The displays present information in three languages: French, German and English for the passengers convenience. Smoking is completely forbidden on train. On train, there is a buffet, where you may purchase a wide variety of tasty meals, sandwiches, desserts and beverages.
Passenger satisfaction traveling by TGV Lyria high speed train guaranteed.
Cheap TGV Lyria train tickets can be bought on our website - PolishTrains.eu. We invite you to book and purchase.