Szwajcarska kolej panoramiczna - Cheese Train
Szwajcaria to piękny kraj z mnóstwem atrakcji turystycznych. Najlepiej zwiedzić ją pociągami panoramicznymi, których jest kilka. Kolej panoramiczną zaprojektowano tak, aby wygodnie obserwować zmieniające się za oknem krajobrazy. Podróż tymi pociągami jest niezwykle urozmaicona i może być naprawdę wspaniałą przygodą.
Szwajcarzy należą do czołowych światowych konsumentów sera. Niezależnie od tego, czy są delikatne, pikantne, łagodne czy stopione, każdego roku rocznie zużywa się 21 kilogramów na osobę.
Pociąg serowy - Cheese Train
Podróżni przybywający do Szwajcarii mogą odkryć niektóre z tajemnic tej tradycyjnej specjalności korzystając z oferty Cheese Train z Montreux lub Zweisimmen do Château-d'Oex przez piękny region Jeziora Genewskiego. To kolejowa podróż przez piękne krajobrazy, kulinarne traktaty i kulturę alpejską.
Od 2013 roku, Pociąg serowy pozwala zgłębiać sekrety najbardziej popularnego produktu mlecznego Szwajcarii. Pociąg serowy jest jedną z najpopularniejszych atrakcji Szwajcarii w zimie. Jednodniowa podróż jest prowadzona przez kolejkę Montreux-Bernese Oberland w każdy piątek, sobotę i niedzielę od początku stycznia aż do końca kwietnia.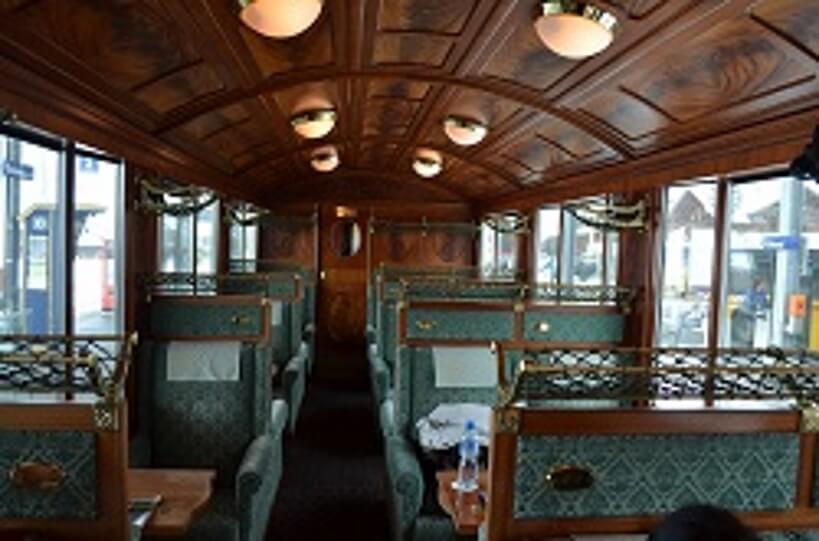 Przed wejściem do pociągu serowego - Cheese Train - obsługa oferuje podróżnym powitalnego drinka (w cenie biletu). Na pokładzie pasażer może zrelaksować się w pierwszej klasie w bajkowych wagonach Pullmana "Belle Epoque" i delektować się próbkami sera oraz przepięknymi widokami za oknem. Pasażerom podczas podróży towarzyszy przewodnik.
Kolej na degustację
Po przyjeździe do Château-d'Oex - to szwajcarska miejscowość położona w kantonie Vaud w Prealpach Szwajcarskich - podróżnych czeka wizyta w restauracji Le Chalet, gdzie można obejrzeć pokaz tradycyjnych technik przygotowywania serów przez wykwalifikowanych pracowników. W Chateau d'Oex podróżujący dowiadują się jak 200 litrów mleka zmienia się w ser "Le Chalet Bio". Po demonstracji każdy będzie miał możliwość degustacji oryginalnego i pysznego bio fondue w restauracji Le Chalet.
Muzeum du Pays d'Enhaut
Po tej smakowitej "przygodzie" można udać się do Muzeum du Pays d'Enhaut, prawdziwego muzeum ludowego. Na odwiedzających czeka mnóstwo ekspozycji sztuki i rzemiosła. Muzeum zachwyca odwiedzających również unikalną kolekcją wyjątkowych, tradycyjnych wycinanek z papieru. To ostatni punkt tej niesamowitej kolejowej podróży.
Bilety na podróż koleją panoramiczną Cheese Train można zarezerwować i kupić w naszym serwisie – PolishTrains.eu