Francuskie pociągi - TGV
Francja była pierwszym krajem, w którym pojawiły się pociągi dużych prędkości. Dzisiejsze TGV (Train a Grande Vitesse) to najbardziej rozpoznawalna marka szybkich kolei w Europie. Są symbolem nowoczesności, prędkości, komfortu i sukcesu cywilizacyjnego. Sieć TGV we Francji to około 2 tysiące kilometrów połączeń kolejowych dużych prędkości. Pociąg TGV 3 kwietnia 2007 r. pobił rekord prędkości osiągając 574,8 km/h na nowej linii TGV Est z Paryża do Strasburga.
Pociągiem przez Europę
Sieć połączeń kolejowych w Europie jest bardzo rozbudowana i spaja niemal cały kontynent. Dzięki temu podróż pociągiem jest najlepszym sposobem na zwiedzenie europejskich krajów. Nic nie stoi na przeszkodzie, by rozpocząć swoją podróż we Francji i przemieścić się np. do Szwajcarii. Ofertę takich połączeń posiada TGV Lyria. Spółka jest własnością SNCF. Ten niedawno wyremontowany francuski pociąg łączy takie miasta jak: Paryż, Lozanna, Berno, Genewa, Zurych, Bazylea, Marsylia, Montpellier i Nicea.
Wszystkie pociągi TGV Lyria z Francji do Szwajcarii są nowocześnie zaprojektowane, posiadają wygodne fotele i przestrzeń na nogi. W ofercie pasażer ma do wyboru trzy klasy rezerwacyjne: Economy Class, Comfort Class, Premier Class (na niektórych trasach).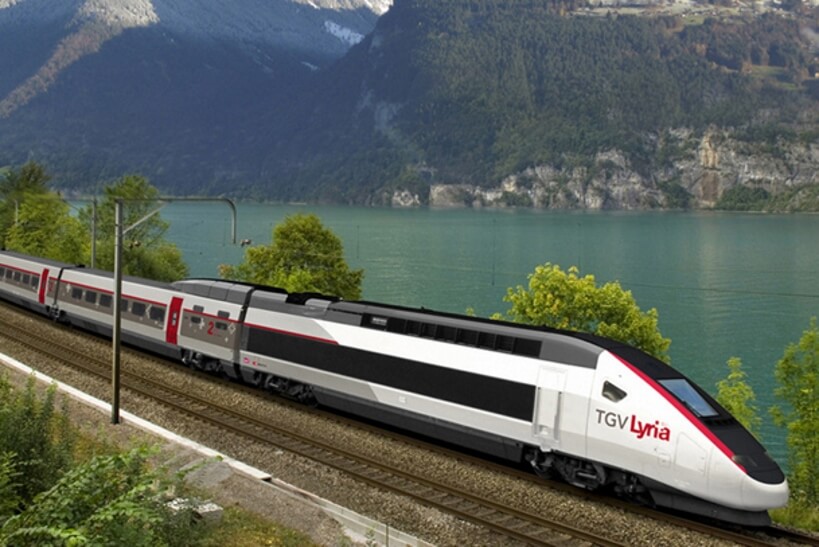 Informacje na monitorach wyświetlane są w trzech językach: francuskim, niemieckim i angielskim dla większej wygody podróżujących. W pociągach obowiązuje całkowity zakaz palenia. Na pokładzie pociągu znajduje się bar, w którym serwowany jest duży asortyment smacznych potraw, kanapek, deserów i napojów.
Zadowolenie pasażera po przebytej podróży szybką koleją TGV Lyria gwarantowane.
Tanie bilety na podróże pociągami TGV Lyria można kupić w naszym serwisie - PolishTrains.eu. Zapraszamy do rezerwacji i zakupu.
Loading connections
please wait...

Loading data. It may take some time.