Szwajcarska kolej panoramiczna - Glacier Express
Podróż z Glacier Express (Ekspres Lodowcowy) to jedna z najpiękniejszych tras koleją panoramiczną na ziemi. Bezapelacyjnie są szybsze sposoby podróżowania niż Ekspres Lodowcowy (maksymalna prędkość 40km/h), natomiast nic nie może się równać z wrażeniami dawkowanymi po drodze z każdą minutą. Podróż przez Alpy tym pociągiem panoramicznym, zwanym najwolniejszym ekspresem świata, trwa prawie 8 godzin.
Swoją trasę pociąg rozpoczyna w Zermatt i biegnie aż do St Moritz w Szwajcarii. Trasa rozciąga się przez szwajcarskie wąskotorowe koleje. Pociąg przemierza przez łąki i górskie przełęcze, okrąża kamienne zamki. Przejeżdżając 291 mostami i przez 91 tuneli, zahaczając o górskie dziewicze krajobrazy, ekskluzywne kurorty, głębokie wąwozy oraz przepiękne doliny.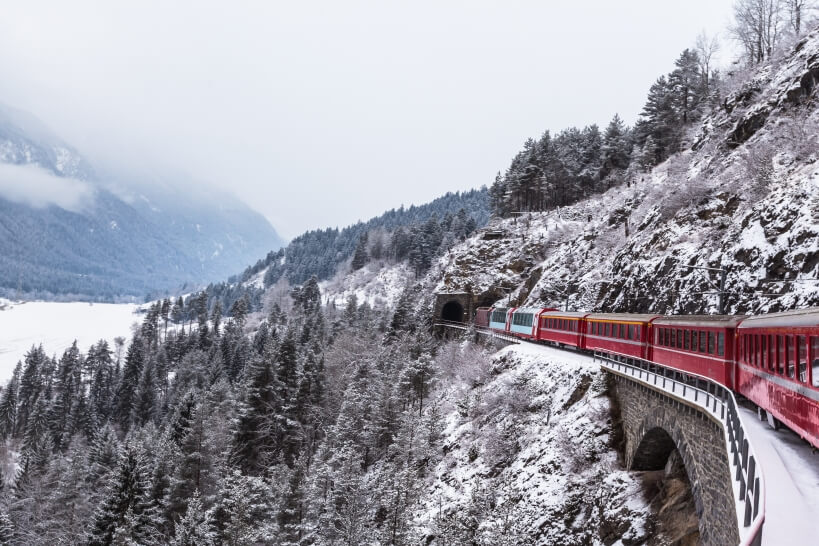 Ekspres Lodowcowy po raz pierwszy przejechał trasę z Zermatt do St. Moritz, a następnie w przeciwnym kierunku, 25 czerwca 1930 roku. Najstarszym odcinkiem obecnej trasy Glacier Expressu jest linia kolei zębatej Visp – Zermatt. Została oddana do użytku, po 3 latach trudnej budowy, w 1891 roku.
Co roku Expresem Lodowcowym jeździ około 250 tys. pasażerów. Podróż tym pociągiem panoramicznym cieszy się tak ogromną popularnością, że w szczycie sezonu letniego trzeba rezerwować w nim miejsca ze sporym wyprzedzeniem.
Na pokład pociągu pasażer wsiada w Zermatt, położonym u stóp Matterhornu (4478 m n.p.m.). Skąd pociąg przemieszcza się wzdłuż szwajcarskich okazałych kurortów. Dzisiaj przyciąga to podróżnych, którzy przemieszczając się powoli, są zaczarowani tą scenerią. Glacier Express przejeżdża przez miasteczko Visp i dojeżdża do Brig leżącego na brzegu Rodanu i jego dopływu Saltiny. Pasażerowie mogą tam podziwiać zamek Stockalper.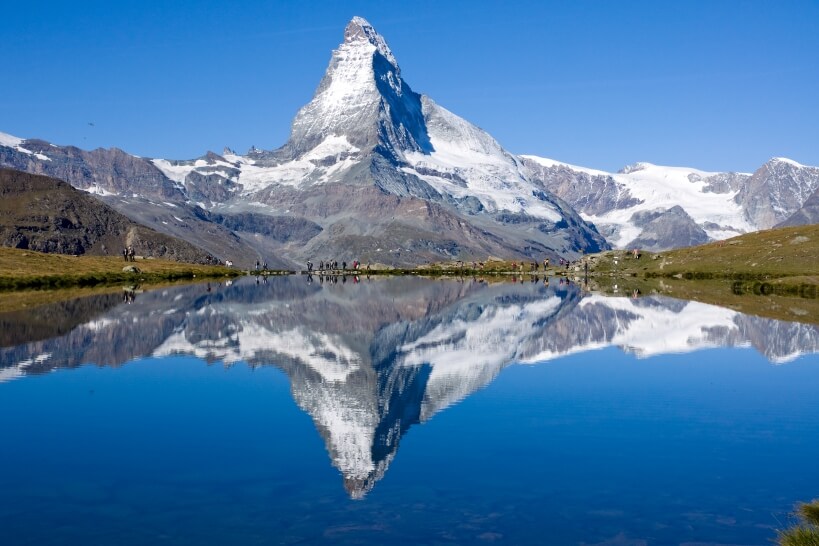 Dalej pociąg panoramiczny przesuwa się wzdłuż Rodanu przez Furka Tunnel do Andermatt. Jest to uroczna dolina otoczona górami. Ekspres przeciska się również przez Wielki Kanion Szwajcarii i wjeżdża na Oberalp Pass (2044 m). To przełęcz będąca najwyższym punktem tej niesamowitej, kolejowej podróży. Następnie pociąg pokonuje imponujący wiadukt Landwasser w dolinie Albula, który tworzy pięć okrągłych łuków. Z mostu pasażer może podziwiać wąwóz Landwasser. W kolejnym etapie podróży przy torach pojawia się rzeka Vorderrhein. Lodowcowy Ekspres podążając wzdłuż niej dojeżdża aż do Chur, będącego najstarszym miastem w Szwajcarii. Następnie podróżujący trafia do St. Moritz, który jest szwajcarską zimową krainą czarów i kolebką alpejskiej turystyki. Znajduje się w nim miliony tras turystycznych w samym środku Alp.
Poza dawką rozmaitych i przepięknych górskich krajobrazów, podróżujący może udać się do wagonu restauracyjnego. Panuje tam elegancki wystrój. Miła obsługa sprawi, że pasażer poczuje się jeszcze bardziej wyjątkowo.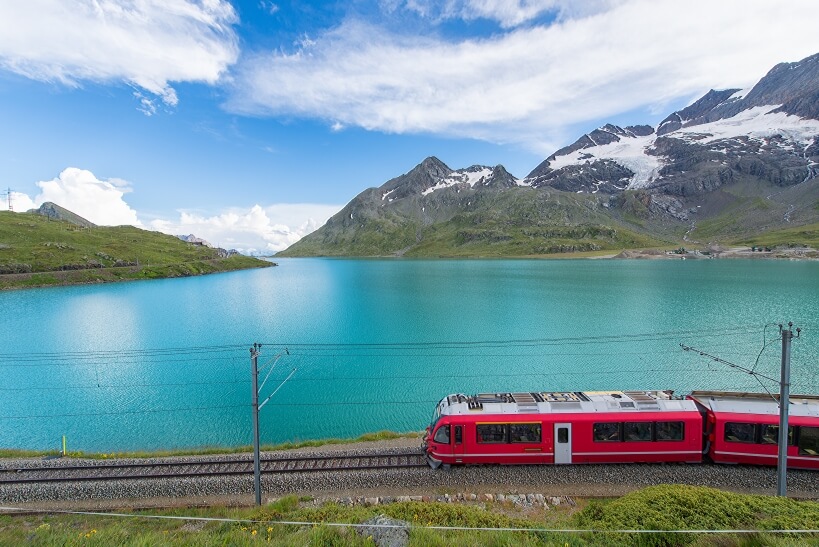 Warto dodać, że pociąg panoramiczny pokonuje liczne zakręty i pętle na niemałej wysokości, co z pewnością robi największe wrażenie. Ekspres Lodowcowy mija takie tunele jak: Butzen o długości 207 m, Biel 284 m czy Rufenen 300 m – to najdłuższy tunel kolejowy na tej trasie.
Podróż z Glacier Express to wciąż zmieniający się krajobraz i towarzyszące temu niezwykłe emocje. A to wszystko po najwyższych górach Europy - Alpach. O podróży takim pociągiem panoramicznym marzy każdy pasażer. Co więcej, jest to realne marzenie!
Bilety na tę podróż koleją panoramiczną można zarezerwować online i kupić w naszym serwisie – PolishTrains.eu
Loading connections
please wait...

Loading data. It may take some time.