Pociągiem przez Włochy
We Włoszech jest tyle pięknych miejsc, że zdecydowanie warto spróbować odwiedzić więcej niż jedno w trakcie wyjazdu. Jak to zrobić? Najlepiej korzystając z włoskich kolei dużych prędkości.
Włoska kolej dużych prędkości
Jeśli komuś naprawdę zależy na czasie i komforcie, to może skorzystać z superszybkich pociągów, które obsługują połączenia między dużymi miastami. Osiągają prędkość do 300 km/h. Infrastruktura i technologia pozwalą na osiągnięcie w przyszłości nawet 400 km/h.
Rodzaje szybkich kolei to Frecciarossa, Frecciabianca i Frecciargento. Różnią się prędkością oraz technologią, chociaż ich trasy się przecinają. Szukając połączeń na północy Włoch bardzo możliwe, że na rozkładzie zobaczymy wszystkie z nich.
Pociągi Frecciargento
Frecciargento to pociągi osiągające prędkość do 250 km/h. Kursują z Wenecji i Werony do Rzymu, Neapolu, Bari i Reggio di Calabria. Są to pociągi kursujące na trasach krótszych niż pociągi Frecciarossa. Podróż odbywa się zarówno w pociągach szybkich kolei jak i tych tradycyjnych. Pociągi Frecciargento są dla wielu podróżnych dobrym wyborem, jeżeli wyznacznikami podróży są komfort i czas. Pasażer może zdecydować się na przejazd w pierwszej lub drugiej klasie.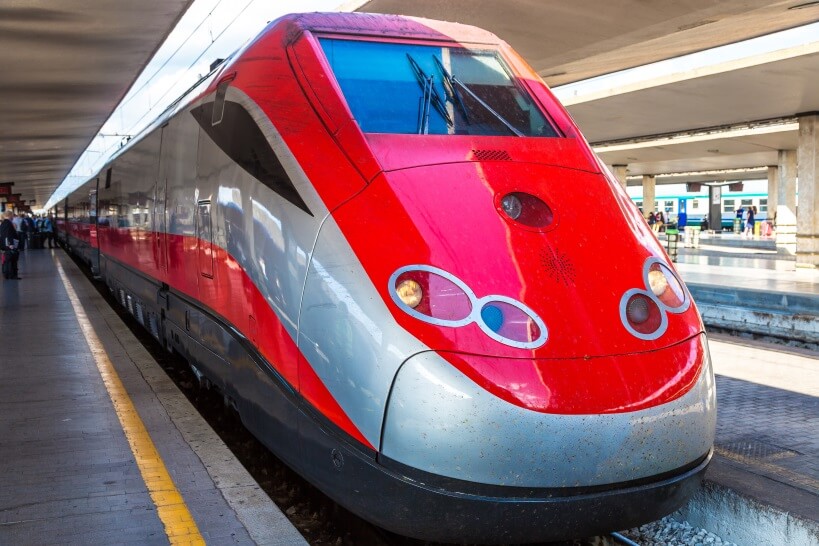 Klasa druga to Seconda Classe, natomiast klasa pierwsza Primera Classe. Pierwsza klasa różni się od drugiej rozkładanymi skórzanymi fotelami, darmową prasą, powitalnym napojem i bezpłatnymi przekąskami. Pasażerowie pierwszej klasy otrzymują na powitanie zimne lub gorące napoje wraz z przekąskami we włoskim stylu. Każdy z podróżnych ma dostęp do wagonu barowego/bistro, który znajduje się w środku składy pociągu, gdzie może spędzić miło czas delektując się ciepłymi i zimnymi napojami, kanapkami czy przekąskami.
Każdy z pociągów Frecciargento posiada klimatyzację oraz gniazdka zasilania. W każdym wagonie znajduje się toaleta (dwie w wagonach 1 klasy). Na trasach Rzym – Wenecja składy wyposażone są w dotykowe ekrany LCD, dzięki którym pasażer jest na bieżąco z najważniejszymi informacjami dotyczącymi ofert i usług. Nie brakuje również monitorów, na których wyświetlane są: informacje dotyczące podróży, wiadomości czy filmy. Przy każdym miejscu znajduje się też lampka. Równie ważne jest, że w pociągu jest dostępne miejsce na duży bagaż w przedsionkach wagonów.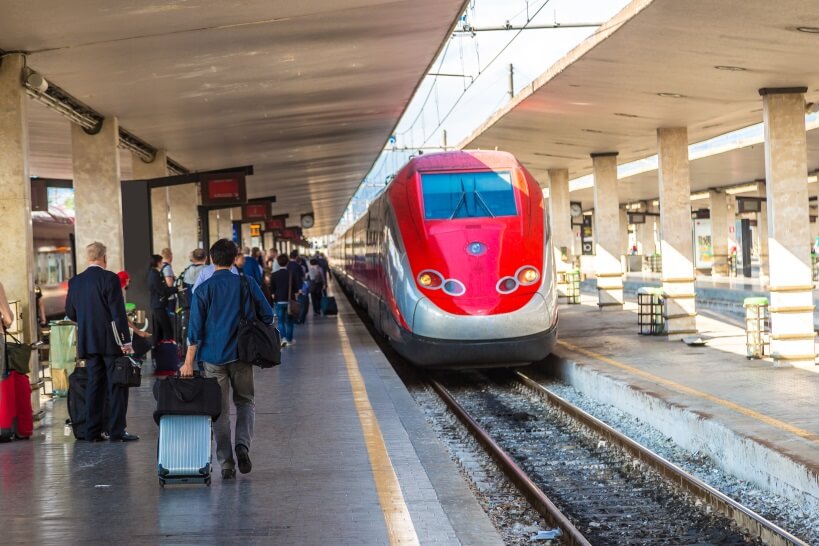 Zwiedzanie Włoch pociągiem
Każdego dnia podróżny może rozpocząć wycieczkę spośród 58 wygodnych i szybkich połączeń, między innymi:
jeden pociąg wyrusza codziennie co godzinę, między 6:00 a 19:00, łącząc Rzym i Wenecję, skąd można kontynuować wycieczkę, na przykład do Udine, Triestu, Neapolu czy Salerno
s4 pociągów kursuje między Rzymem a Weroną co godzinę w godzinach szczytu, dzięki temu możesz podróżować dalej do Brescii, Trydentu czy Bolzano
6 pociągów łączy Rzym z Lecce, a 2 kursują z Rzymu do Reggio di Calabrii i zatrzymują się w głównych miastach Apulii i Kalabrii
Zarezerwuj on-line już teraz bilet na podróż włoską koleją. Tylko w naszym serwisie - PolishTrains.eu
Loading connections
please wait...

Loading data. It may take some time.