By Frecciargento train through Italy
In Italy there are so many enchanting places that it is worth to visit the country more than once. How to do it? Use the Italian high speed trains.
The Italian high speed trains
If time is short for you and you value comfort choose to go by high speed trains that offer connections among the big cities. They do as much as 300 km/h. However, the technology and infrastructure will allow to go as quickly as 400 km/h in the future.
Types of the high speed trains are as follows Frecciarossa, Frecciabianca and Frecciargento. They differ in technology and pace, although they go along the same routes. Looking up the northern services you will probably come across all of them.
Frecciargento Trains
Frecciargento are the trains doing up to 250 km/h. They run from Venice and Verona to Rome, Neapol, Bari and Reggio di Calabria. They run on shorter lines than Frecciarossa trains. The journey includes both high speed and traditional trains. The Frecciargento trains indicate perfect choice if you value comfort and time. The passenger may choose from the first and the second class.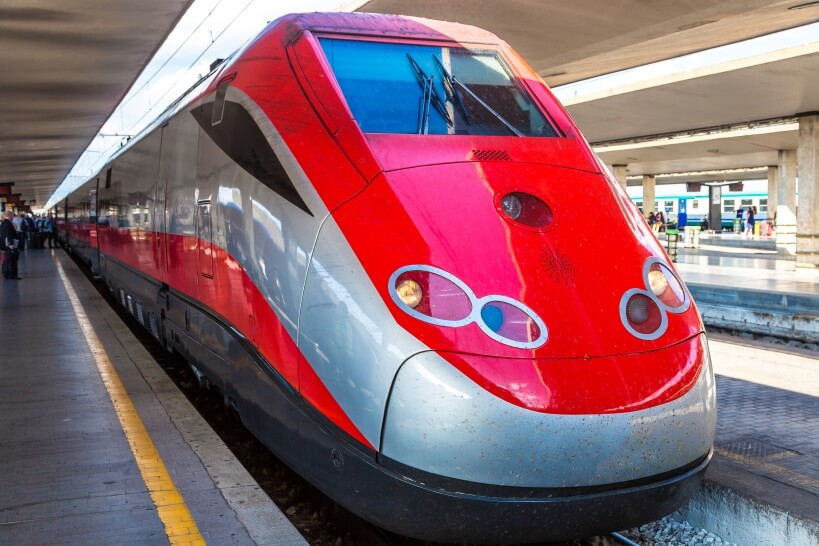 Second class translates is Seconda Classe, while the first class translates to Primera Classe. The first class differs from the second class that they have reclining leather chairs, free newspapers, a welcome drink and free snacks. The first class passengers receive cold and hot beverages with snacks in Italian style. Every passenger have an access to the train buffet that is located in the middle part of the train where you could enjoy your time having hot and cold drinks, sandwiches or snacks.
Each Frecciargento train is equipped with a power supply sockets and air-conditioning. In each car there is a toilet (two in the first class). On the Rome - Venice service the trains are equipped with LCD display informing a passenger about contemporary offers and services. There are also TVs displaying the journey information, news or films. Every seat is equipped with a lamp. Importantly, there is a large luggage compartment for extra size luggage.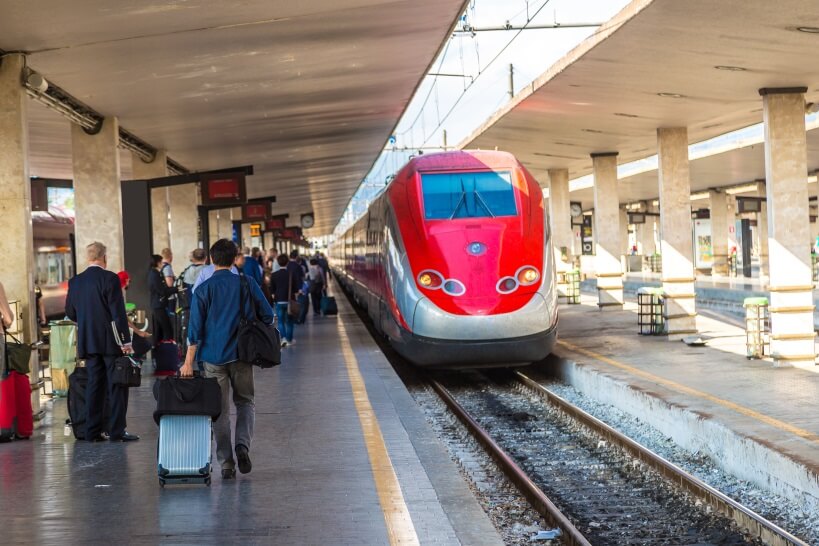 Sightseeing Italy by train
Each day the traveller may choose from 58 comfortable and fast services, among others:
one train leaves every day every hour, between 6:00 and 19:00 connecting Rome and Venice from where you may travel on to Udine, Trieste, Napoli or Salerno, for example
4 trains frequent between Rome and Verona every hour in the rush hours, thanks to which you may travel on to Brescia, Trento or Bolzano
6 trains connect Rome with Lecce, and 2 run from Rome to Reggio di Calabria and call at major Apulia and Calabria towns
Book your Italian travel ticket now online. Only on our website - PolishTrains.eu