Pociągiem przez Włochy
Koleje we Włoszech należą do jednych z najnowocześniejszych na świecie. Włosi posiadają jedne z najszybszych kolei dużych prędkości (podobnie jak Japonia, czy Francja), wyprzedzając pod tym względem między innymi Niemców.
Włoska kolej dużych prędkości
Podróż włoską koleją należy do przyjemnych. Pociągi są bezpieczne, czyste i punktualne. Obsługa jest miła i pomaga obcokrajowcom (kasjerzy i konduktorzy najczęściej znają język angielski). Rozkłady jazdy są przedstawione w czytelny i prosty sposób. Zazwyczaj poza stacją docelową wyszczególnione są stacje pośrednie.
Jeśli pasażer na trudność w porozumieniu się z obsługą dworca warto skorzystać z biletomatów. Można na nich sprawdzić najbliższe odjazdy do określonej stacji, ceny biletów, czas podróży. Biletomaty posiadają możliwość wyboru jednego z czterech języków: włoski, angielski, francuski i niemiecki. Awarie tych urządzeń zdarzają się bardzo rzadko. Jeśli już wystąpią maszyna wydrukuje specjalny bilecik, z którym należy podejść do kasy po właściwy bilet.
Rodzaje szybkich kolei to Frecciarossa, Frecciabianca i Frecciargento.
Pociągi Frecciabianca
Frecciabianca to po polsku "Biała strzała". Są to szybkie pociągi kursujące po bardzo popularnych trasach. Pociągi jeżdżące z prędkością 200 km/h łączą:
Mediolan z Wenecją
Udine z Triestem
Genue z Rzymem
Bari z Lecce
Rzym z Rawenną
Rzym z Reggio Calabria
Gwarantują wysoki komfort i wysoką jakość usług. Dzięki osiemdziesięciu sześciu pociągom można dotrzeć niemal do każdego miejsca we Włoszech.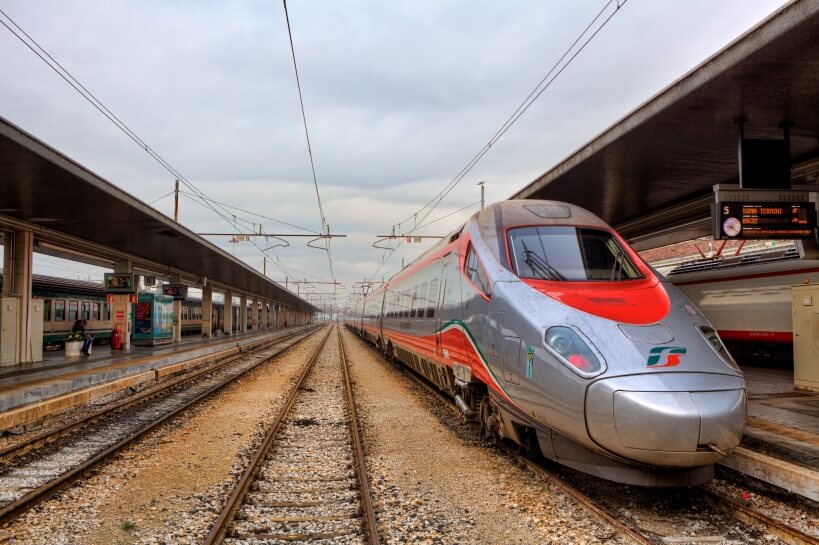 W szybkich pociągach Frecciabianca pasażer może podróżować w pierwszej i drugiej klasie. Wybierając droższy wariant (klasa pierwsza) podróżny zyska przede wszystkim większą przestrzeń dla siebie oraz darmową kawę. Poza tym, wszystkie pociągi Frecciabianca gwarantują:
Przestronne i szerokie rozkładane fotele
Klimatyzacja
Odpowiednio dużo miejsca na większy bagaż
Gniazdko zasilania znajdujące się przy każdym miejscu siedzącym oraz lampkę
Rozkładane stoliki
Miejsce do przewijania dziecka
Toaleta w każdym wagonie
System informacji pokładowej
W każdym pociągu znajduje się bar, w którym podróżny może zaopatrzyć się w ciepłe i zimne napoje oraz przekąski. Na niektórych trasach dostępny jest specjalny Corner Bar, w którym pasażer może usiąść i wypocząć częstując się posiłkiem.
Zarezerwuj on-line już teraz bilet na podróż włoską koleją. Tylko w naszym serwisie - PolishTrains.eu