By train via Italy
The Italian trains belong to the most modern ones in the world. The Italians possess one of the fastest high speed trains (Japan or France alike) ahead of Germans, for example.
Italian high speed trains
Travel by Italian trains is pleasant. The trains are safe, clean and punctual. The staff is client-oriented and friendly towards the foreigners (conductors and cashiers usually speak English). The time tables are clearly displayed and they are easy to follow. Apart from destination they display the substations.
Should the passenger have any communication issues with the station staff you may always use the ticket machines. You may look up the nearest train departure, ticket prices, travel time. The ticket machines allows you to choose from four languages: Italian, English, French and German. They indicate low rate of failure. Should you, however, happen to experience such a situation, the machine will print a ticket that allows you to acquire a proper ticket at the cash desk.
Types of high speed trains are Frecciarossa, Frecciabianca and Frecciargento.
Frecciabianca trains
Frecciabianca means The White Arrow. These are extremely fast trains commuting on popular routes. The trains running at 200 km/h connect:
Mediolan and Venice
Udine and Triestem
Genoa and Rome
Bari and Lecce
Rome and Rawenna
Rome and Reggio Calabria
They guarantee high comfort and superior quality of service. Thanks to eighty trains you may reach almost any part of Italy.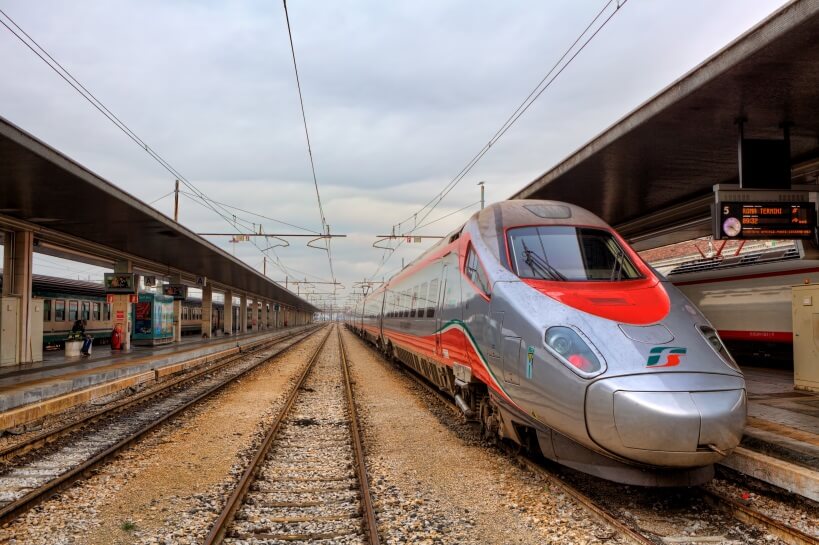 On the Frecciabianca trains you may travel in the first or second class. Choosing the more expensive option (first class) you will enjoy spacious seat and a free cup of coffee. Apart from that all the Frecciabianca trains guarantee:
Spacious and wide reclining seats
Air-conditioning
Sufficient space for larger luggage
Seat accompanied with a power supply socket and a lamp
Fold-out tables
A place to change the child
Toilet in every car
On-board information system
On every train there is a buffet where you may purchase hot and cold beverages as well as snacks. On some trains there are special Corner Bars where you could seat and rest enjoying your meal.
Book your Italian travel ticket now online. Only on our website - PolishTrains.eu