Hiszpania - podróż koleją
Komfort i szybkość podróży po Hiszpanii zapewniają koleje dużych prędkości. Jest to najlepszy i najwygodniejszy sposób na przemieszczanie się między największymi miastami kraju. W podróż kolejową po Hiszpanii pasażer może wyruszyć superszybkimi pociągami.
Hiszpania to jeden z najpopularniejszych krajów w Europie i na świecie. Jest trzecim najliczniej odwiedzanym państwem. Jej atrakcje przyciągają rocznie ponad 60 mln turystów. Jak szybko podróżować i zwiedzić ten piękny kraj? Odpowiedź jest prosta: szybką koleją.
AVE - hiszpańska kolej dużych prędkości
AVE, bo o nich mowa, to jedne z najszybszych pociągów na świecie. Są odpowiednikiem francuskich TGV. Hiszpańskie koleje dużej prędkości są uznawane za jedne z najlepszych na świecie. Poza szybkością i komfortem jazdy, podróż jest prawdziwą przygodą, podczas której pasażer może podziwiać przepiękne krajobrazy. Rozwijają prędkość do 320 km/h.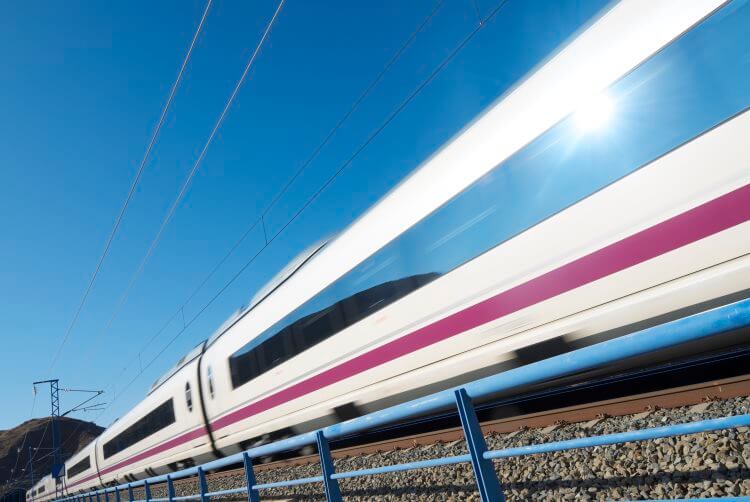 Zwiedzanie Hiszpanii pociągiem
Trasę między Madrytem a Sewillą (471 km) pokonują w dwie godziny i trzydzieści minut. Pierwszy pociąg AVE zaczął kursować na trasie Madryt – Barcelona na początku lat 90. ubiegłego stulecia. Szybkie pociągi AVE są zarządzane przez hiszpańskie koleje państwowe RENFE. Obecnie szybka kolej łączy najważniejsze, pod względem ekonomicznym i turystycznym, miasta Hiszpanii: Sewillę, Malagę, Valencię, Valladolid, Saragossę, Madryt i Barcelonę.
W każdym pociągu AVE znajduje się bufet serwujący napoje i przekąski. Wszystkie pociągi są klimatyzowane. W pociągach przewidziane są miejsca dla podróżnych o ograniczonej sprawności ruchowej.
Jak kształtują się ograniczenia dotyczące przewożonego bagażu? Bezpłatnie: dwie sztuki dużego bagażu i jedną sztukę bagażu podręcznego. Maksymalny rozmiar nie może przekraczać 250 cm (jest to suma długości, szerokości i wysokości).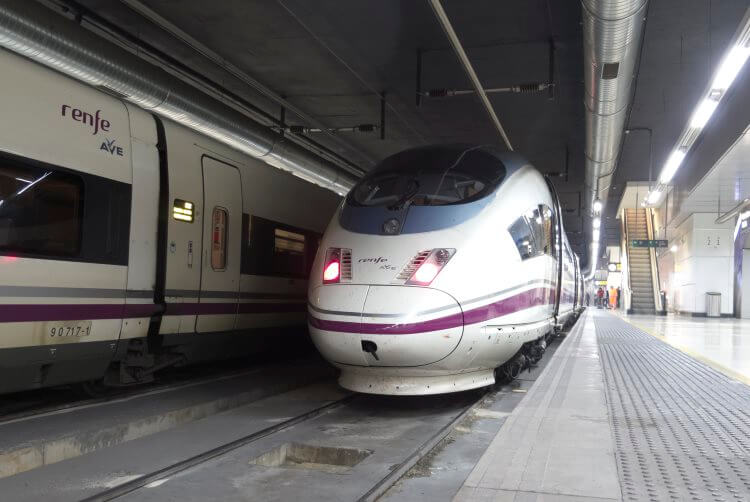 AVE - rezerwacja biletów
W hiszpańskich pociągach AVE są dostępne następujące klasy rezerwacyjne:
Druga Klasa (AVE Turista)

Wagony zostały wyposażone w wygodne, rozkładane fotele, które gwarantują przyjemną podróż. Odpowiednia ilość miejsca na nogi zapewnia komfortowy wypoczynek. Przy każdym siedzeniu znajduje się gniazdko do zasilania sprzętu elektronicznego. Możliwe jest zarezerwowanie miejsca siedzącego przy stoliku. Dla rodzin z dziećmi dostępna jest dodatkowa przestrzeń oraz gry.
Druga klasa plus (AVE Preferenete)

Oprócz wszystkich wygód jakie oferuje druga klasa, pasażerowie dodatkowo mają do dyspozycji szersze fotele. Mogą korzystać ze specjalnego menu w wagonie restauracyjnym lub zamówić posiłek do swojego wagonu. Na stacjach kolejowych mają możliwość korzystania z salonów lounge oraz darmowego parkingu (do 48 h).
Pierwsza klasa (AVE Club)

Wariant AVE Club dostępny jest na niektórych popularnych połączeniach. W tej klasie znajdują się skórzane fotele. Wysokiej jakości dania i wino zostały wliczone w cenę biletu. Obsługa pociągu zadba o każdy szczegół tak, by podróż po Hiszpanii stała się przyjemnością. Wagony Club należą do najbardziej luksusowych na świecie.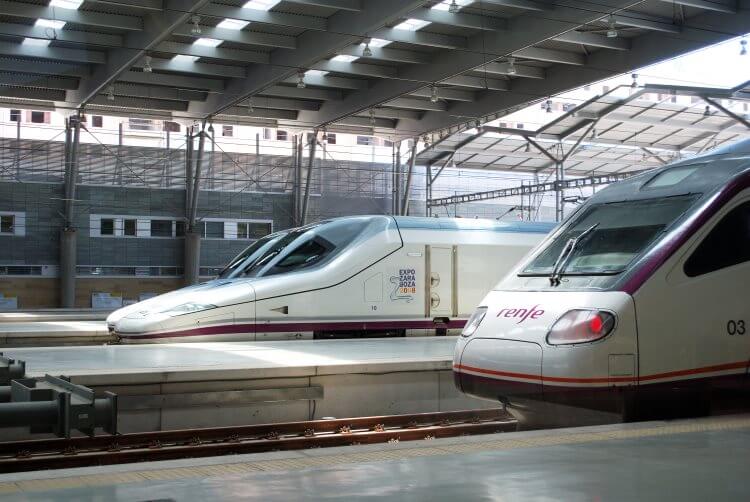 Hiszpańskie dworce kolejowe są czyste i niejednokrotnie są perełkami architektonicznymi. Pociągami państwowego przewoźnika RENFE spokojnie można udać się w podróż po Hiszpanii. Sieć połączeń dosięga wszystkich najważniejszych miast tego kraju, tym samym podróż staje się szybka i przyjemna.
Bilety na podróże szybką koleją AVE można zarezerwować i kupić w naszym serwisie - PolishTrains.eu
Loading connections
please wait...

Loading data. It may take some time.