Wilhelm Tell Express - szwajcarska trasa panoramiczna
Szwajcarska kolej panoramiczna - Wilhelm Tell Express
Najważniejszym punktem podróży po Szwajcarii jest przejazd jedną z tras oferowanych przez koleje panoramiczne. Można podziwiać krajobrazy Szwajcarii zza okien panoramicznego pociągu. Wilhelm Tell Express jest jedną z licznych szwajcarskich kolejowych tras panoramicznych.
Zwiedzanie Szwajcarii koleją
Turyści mogą zwiedzać różne zakątki Szwajcarii niemal o każdej porze roku. Latem kraj ten oferuje najładniejszą pogodę dla entuzjastów aktywnego wypoczynku, a zimą na miłośników białych sportów czekają wyśmienite warunki śniegowe dopracowane z iście szwajcarską dokładnością.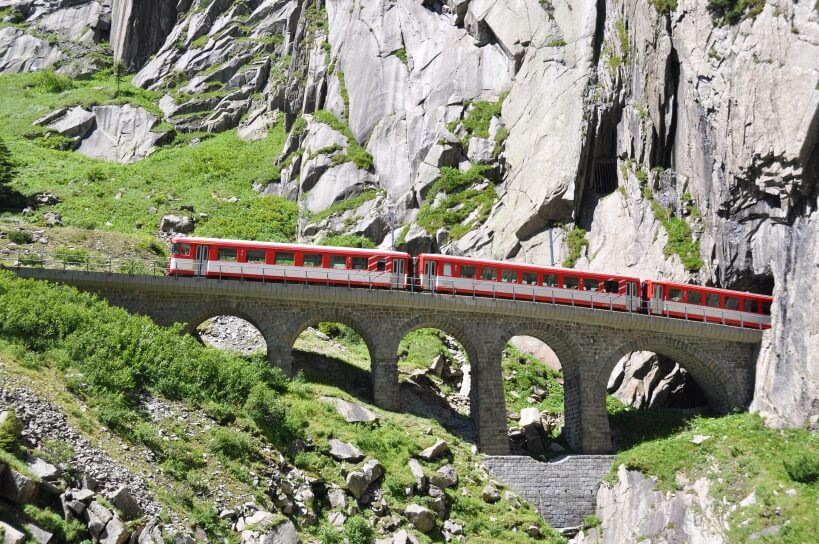 Wiadomo nie od dziś, że Szwajcaria słynie z najlepszego systemu kolejowego na świecie. Podróżujący ma do wyboru wiele tras panoramicznych, dzięki którym w wyjątkowy sposób może poznać urok tego kraju. Trasy zostały wybrane z myślą o tych, którzy pragną ujrzeć na własne oczy różnorodność szwajcarskich krajobrazów. Dlatego kolej panoramiczna prowadzi pasażera przez najbardziej urokliwe zakątki kraju, przecinając go wzdłuż i wszerz.
Wilhelm Tell Express
Wilhelm Tell Express jest jedną z licznych szwajcarskich tras panoramicznych. To niekoniecznie najszybszy, ale na pewno najlepszy i najbardziej widowiskowy sposób, aby z Lucerny dostać się na południową stronę szwajcarskich Alp. Na początku pasażerów czeka rejs przez całą długość Jeziora Czterech Kantonów, z Lucerny do Fluelen.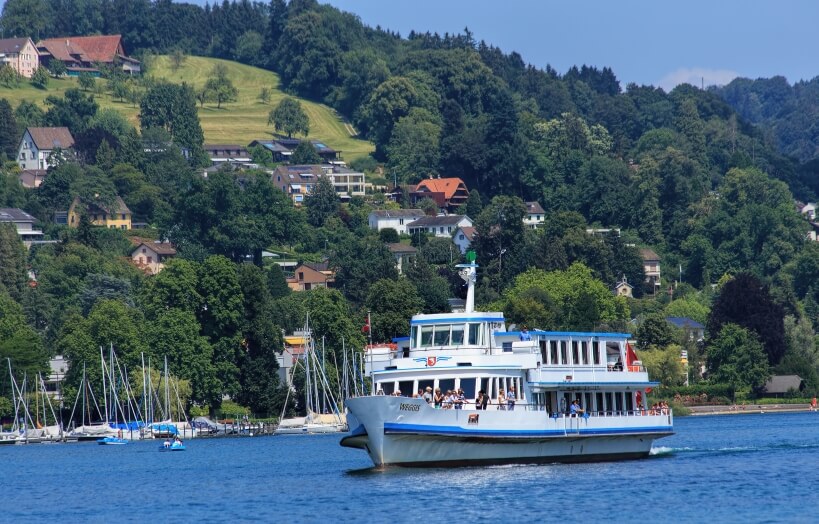 Autentyczny parowiec przeciska się przez zwężenia wokół pionowych ścian skalnych. Górskie zbocza i urwiska wspinają się ku niebu niemal znad samej wody. Rejs kończy się we Fluelen na południowym krańcu jeziora, skąd w przeszłości transportowano towary i podróżnych przez Alpy, po czym następuje przesiadka na panoramiczną kolej. Stamtąd pociąg przewiezie podróżnych pod Przełęczą Świętego Gotarda. Jest to jedna z najbardziej znanych przełęczy alpejskich - znajduje się na wysokości 2108 metrów n.p.m.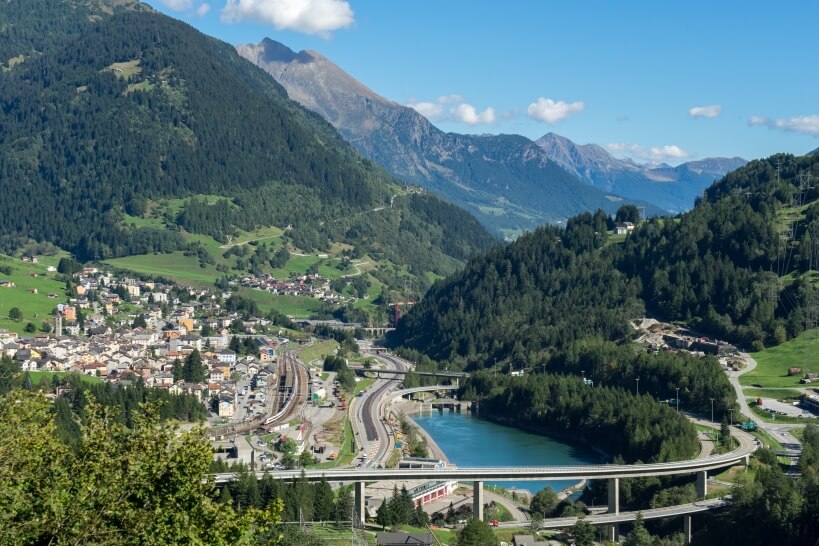 Dalej pociąg przemierza region Uri, skąd miał pochodzić legendarny bohater Szwajcarii - Wilhelm Tell. Po pokonaniu 15-kilometrowego tunelu Gottharda biegnącego pod pasmem wysokich gór kontynuuje podróż przez urocze, osobliwe wioski w drodze do Bellinzona lub Lugano (przy granicy z Włochami), gdzie kończy podróż.
Pasażer może zdecydować się na trasę w odwrotnym kierunku. Podczas podróży pasażerowie mają do dyspozycji audio przewodniki, które dostarczą podróżującemu wszelkich informacji o mijanych po drodze atrakcjach. Ta niesamowita podróż trwa 5 godzin.
Bilety na tę niesamowitą podróż koleją panoramiczną można zarezerwować online i kupić w naszym serwisie - PolishTrains.eu