TGV - francuskie pociągi dużych prędkości
TGV to chyba najbardziej rozpoznawalna marka kolejowa na świecie. Jest szybki, ekskluzywny i komfortowy. TGV to w skrócie Train a Grande Vitesse czyli po prostu Pociąg Wysokich Prędkości. Oferują szybkie połączenia kolejowe łączące główne miasta we Francji. System kolei TGV jest zarządzany przez francuskie koleje państwowe SNCF.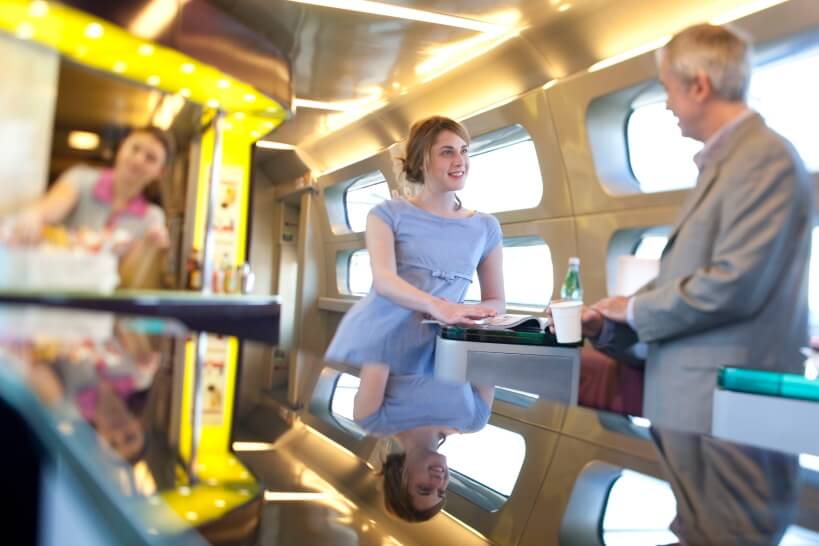 Kolej na komfort
Pociągi TGV, mimo swojej szybkości, są bardzo ciche, dzięki temu podróż jest bardzo komfortowa - pozwala na relaks czy pracę. Każdy pociąg wyposażony jest w bufet, miejsce do przewijania dziecka, miejsce dla wózków inwalidzkich oraz specjalnie przystosowane toalety dla osób niepełnosprawnych.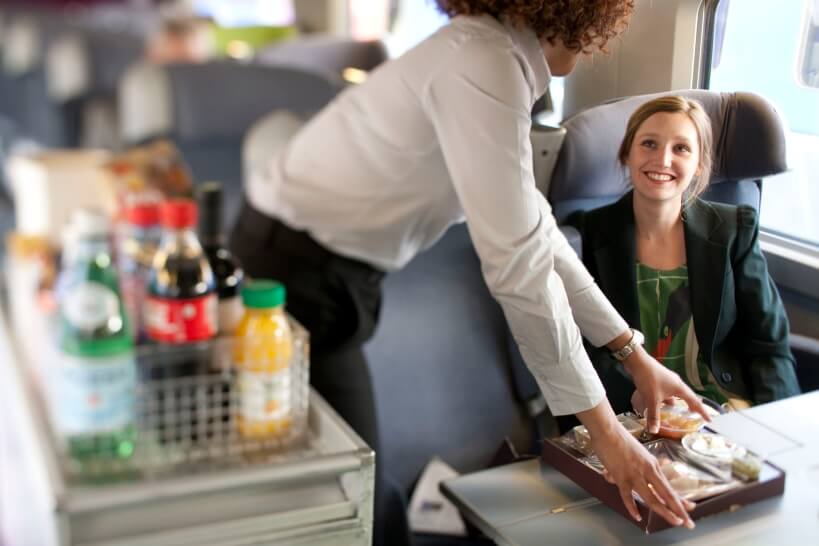 TGV - punktualność i niezawodność
Francuskie szybkie koleje słyną ze swej niezawodności oraz punktualności. W samej Francji pociągi TGV docierają do najdalszych zakątków kraju oferując szybkie połączenia (do 320 km/h) z ponad 400 miejscowościami. Pociągi posiadają składy gwarantujące podróżnym najwyższe standardy podróży.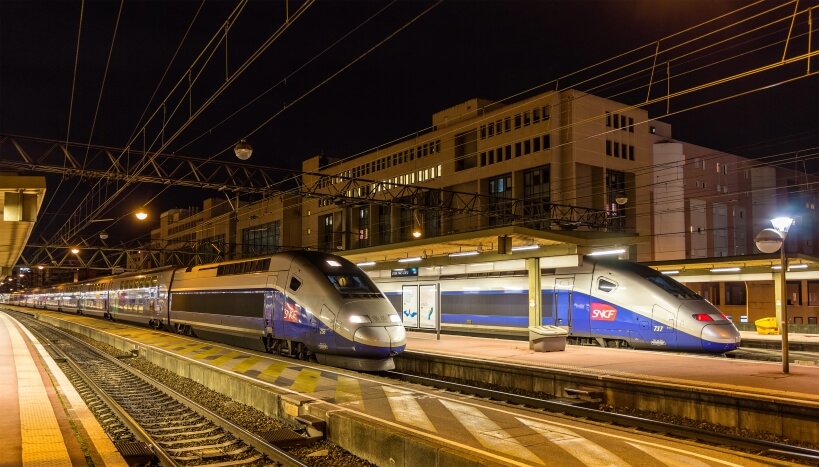 Pierwsza kolej dużych prędkości we Francji
Wnętrza pociągów są nowocześnie urządzone, siedzenia wygodne, a wagony przestrzenne oraz klimatyzowane. We Francji pierwsza linia kolei dużych prędkości na trasie Paryż - Lyon została uruchomiona w 1981 r. Początkowo klientami byli pasażerowie podróżujący w interesach, jako że czas podróży oferowany przez TGV był najkrótszy ze wszystkich dostępnych środków transportu. Jednak okazało się, że grono chętnych do skorzystania z tego praktycznego i szybkiego sposobu podróżowania jest większe. W miarę rozwoju kolei dużych prędkości TGV przejmowały część lub większość pasażerów korzystających dotąd z połączeń lotniczych. 25 stycznia 2013 SNCF świętowała przewiezienie TGV dwóch miliardów pasażerów.
| TRASA | CZAS PODRÓŻY |
| --- | --- |
| Paryż - Lille | 0h 58m |
| Paryż - Rennes | 2h 03m |
| Paryż - Lyon | 2h 08m |
| Paryż - Strasbourg | 2h 20m |
| Paryż - Bordeaux | 2h 59m |
| Paryż - Marsylia | 3h 00m |
| Paris - Montpellier | 3h 16m |
| Paryż - Tuluza | 5h 12m |
| Paryż - Nicea | 5h 28m |
Jednym z wielu atutów francuskiej szybkiej kolei to technologiczne rozwiązania, takie jak ekologiczny sposób prowadzenia pociągów. Również system klimatyzacji, który dostosowuje się do liczby podróżnych czy energooszczędne żarówki – co jest gwarancją ochrony środowiska.
TGV - rezerwacja biletów
Pasażerowie podróżujący pociągami TGV mają do wyboru dwie klasy rezerwacyjne. Dla osób z dziećmi linia oferuje dodatkowe udogodnienia takie jak dodatkowa przestrzeń dla rodzin. Ponadto, co ważne, pociągi przystosowane są do obsługi osób niepełnosprawnych.
Klasy rezerwacyjne TGV:
Pierwsza klasa
jednoosobowe siedzenie gwarantujące więcej miejsca, spokoju oraz prywatności; rozkładane elektronicznie
specjalne przestrzenie dla spotkań biznesowych (2 - 4 osób)
gniazdka elektryczne indywidualne
łatwy dostęp dla niepełnosprawnych
rezerwacja taksówki w pociągu (na wybranych trasach)
Druga klasa
przestrzeń dla 4 osób (Carre)
przestrzeń dla małych grup (Kiosque - 16 osób)
gniazdka elektryczne
komfortowe siedzenia
Tanie bilety na podróże pociągami TGV można szybko zarezerwować i kupić w naszym serwisie - PolishTrains.eu