Zarezerwuj bilet online i podróżuj szybkim pociągiem
Koleje dużych prędkości podobnie jak inne środki transportu posiadają własne rodzaje biletów, klas i taryf. Jeśli postanowili Państwo wybrać właśnie szybki pociąg, warto wiedzieć jakiego typu bilety kolejowe obowiązują oraz kiedy najdogodniej dokonać rezerwacji na wymarzoną podróż.
Cena biletu
Na cenę biletu kolejowego wpływają trzy czynniki:
DATA REZERWACJI

Im wcześniejsza data rezerwacji biletu tym oczywiście bilet jest tańszy. Jest to podstawowa zasada dotycząca rezerwacji biletów kolejowych na większość przejazdów europejskich. Tutaj podamy pewien przykład. Kupując bilet kolejowy na połączenie pociągiem Eurostar relacji Londyn - Paryż na dzień przed wyjazdem może być aż o 70% droższy niż ten, który zostanie zakupiony z 3-miesięcznym wyprzedzeniem.

TARYFA

Kolejną rzeczą, która wypływa na koszt biletu to taryfa. Większość szybkich pociągów daje możliwość pasażerom zakupu biletu w kilku rodzajach taryf.

Best second class lub best first class nie pozwala na zwrot niewykorzystanego biletu oraz na jakąkolwiek zmianę w bilecie.

Flexible second class lub flexible first class gwarantuje pasażerom zwrot kosztów - może to być np. 50% ceny biletu (to wszystko w zależności od rodzaju pociągu). Należy pamiętać, by zwrócić bilet na kilka dni przed wyjazdem.

Dostępna jest również taryfa business class (na niektórych trasach) zapewniająca całkowity zwrot kosztów. Zwrotu biletu można dokonać nawet do 60 dni po planowanym terminie podróży.

KLASA REZERWACYJNA

Trzecim czynnikiem, który znacząco może wpłynąć na cenę biletu jest klasa rezerwacyjna. Większość kolei dużych prędkości oferuje dwie klasy - 1 oraz 2.

Ceny w pierwszej klasie mogą być wyższe nawet o 100% w porównaniu do klasy drugiej.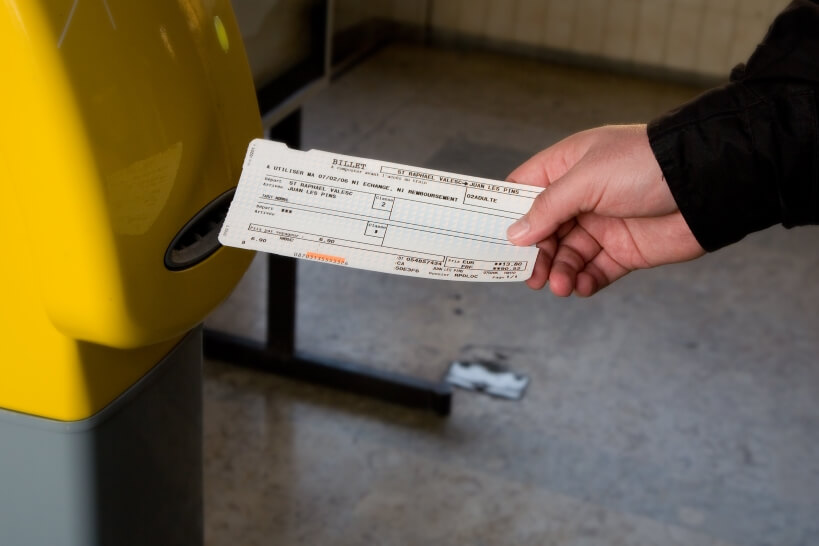 Rodzaje biletów i formy dostawy
Przy dokonaniu rezerwacji przez pasażera widnieje informacja jaki rodzaj biletu jest wymagany przez danego przewoźnika.
Są trzy rodzaje biletów:
Bilet elektroniczny - (P@H)

Ten rodzaj biletu kolejowego jest wysyłany na podany podczas rezerwacji adres e-mail. Taki bilet należy wydrukować i zabrać ze sobą w podróż. Druk biletu może być w kolorze lub w wersji czarno-białej

Bilet papierowy - (E2)

Tylko nieliczni przewoźnicy wymagają posiadania tradycyjnego biletu papierowego od podróżnych. W takim przypadku bilet kolejowy wysyłany jest do klienta kurierem na podany podczas rezerwacji adres

Bilet drukowany na stacji - (TOD)

Jest to rodzaj biletu kolejowego drukowanego w automatach na stacjach kolejowych.

Podczas rezerwacji online pasażer otrzymuje na adres e-mail numer rezerwacji wraz z dokładną instrukcją jak należy wydrukować bilet na stacji kolejowej. Bilet TOD należy wydrukować minimum 30 min przed podróżą.
W europejskim pociągach występują również trzy typy biletów kolejowych. Klasyfikują się następująco:
Bilet z rezerwacją

Jest to bilet ważny na przejazd na danej trasie w danym dniu. Taki bilet kolejowy zawiera numer pociągu, czas odjazdu, numer wagonu oraz siedzenia. Takiego biletu nie można użyć na podróż innym pociągiem (nawet na tej samej trasie). Bilety z rezerwacją wysyłane są do pasażera w formie elektronicznej.

Bilet otwarty

Bilet kolejowy kupowany jest na daną trasę, ale - co najważniejsze - bez określenia godziny odjazdu pociągu. Pasażer może sobie wybrać dowolny pociąg na danej trasie. Jest tylko jeden warunek, że nie jest w danym pociągu wymagana rezerwacja. Bilet otwarty nie posiada numeru siedzenia. Podróżny w wykupionej klasie rezerwacyjnej sam wybiera miejsce.

Mieszane bilety

Zdarzają się sytuacje, w których na danej trasie podróżny będzie musiał skorzystać z dwóch, a nawet trzech typów biletu.
Już wyjaśniamy:
Podróż na trasie Lyon - Londyn
Na odcinku Lyon-Paryż pasażer będzie musiał posłużyć się biletem TOD (omówionym wcześniej) na kolej TGV, zaś na trasie Paryż - Londyn wydrukowanym biletem elektronicznym P@H , który obowiązuje w pociągu Eurostar.
Podsumowując…wyedukowany podróżnik to szczęśliwy podróżnik. By nie tracić więcej czasu - zarezerwuj on-line już teraz bilet na podróż koleją. Tylko w naszym serwisie - PolishTrains.eu