8 powodów dla których warto podróżować pociągiem
Po co budować linie kolejowe i podróżować pociągami, skoro można polecieć samolotem? Czy samolot jest najszybszą i najlepszą formą podróżowania? Odpowiedź na nie okazuje się bardzo prosta. Tutaj spieszymy z wyjaśnieniem.
Oto argumenty dlaczego podróż pociągiem jest lepsza niż samolotem:
Dworce kolejowe znajdują się bliżej centrum miast
Podróż pociągiem bez kolejek
Limity bagażu? Bierzesz ile chcesz!
Zagubiony bagaż? Nie tym razem
Pociągi oferują większą przestrzeń i komfort
Kolej "niewrażliwa na pogodę"
Troska o środowisko
Pociąg gwarantuje więcej swobody
Dworce kolejowe znajdują się bliżej centrum miast
Na podróż składa się nie tylko pokonywanie odległości pomiędzy dwoma lotniskami, ale również dojazd do nich i czas spędzony na odprawie. Te problemy nie występują w przypadku podróży koleją. Dworce kolejowe zazwyczaj znajdują się w doskonałych lokalizacjach, w samym sercu miast, więc tuż po opuszczeniu pokładu pociągu można zacząć zwiedzanie. Co ważne, lokalizacja dworców gwarantuje szybkie dotarcie np. do hotelu. Również zakup takich podstawowych produktów jak woda, kawa, kanapka itp. o wiele mniej obciąży budżet, niż wizyta w lotniskowych sklepach.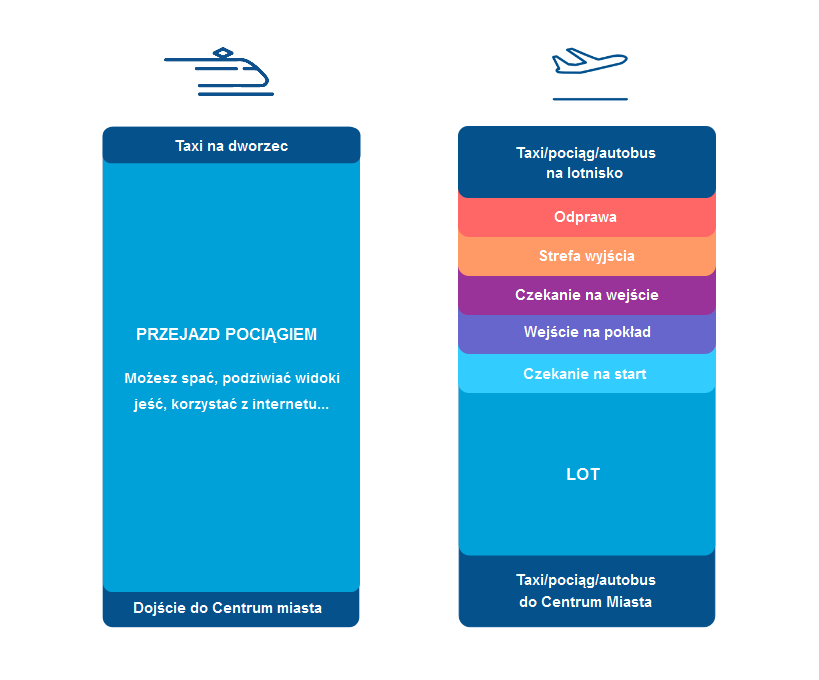 Podróż pociągiem bez kolejek
Procedura wsiadania i wysiadania z pociągu jest dużo prostsza i zajmuje mniej czasu niż odprawa pasażerów samolotu (szczególnie w warunkach obecnego zaostrzenia procedur bezpieczeństwa). Pobyt w porcie lotniczym związany jest, przede wszystkim, ze staniem w długich kolejkach. Przeprowadzane wśród pasażerów ankiety wskazują, że większość z nich uważa kolejki do punktów kontroli bezpieczeństwa za poważny mankament.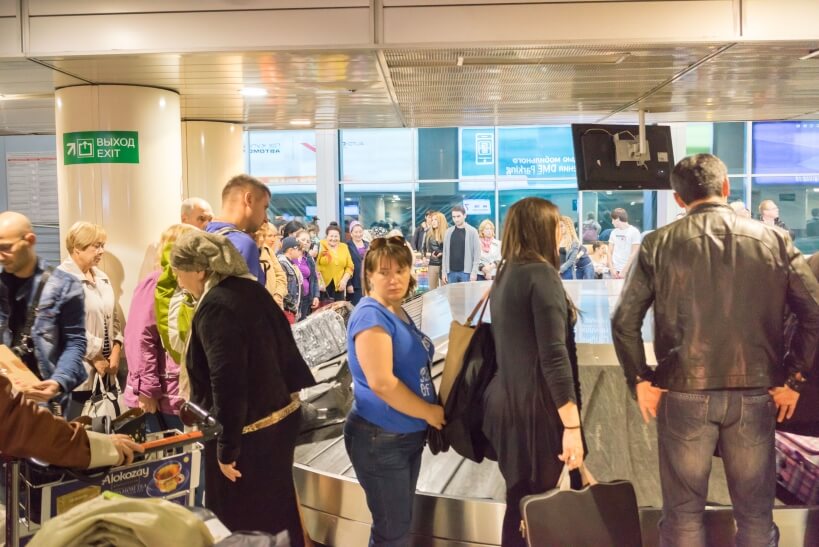 Limity bagażu? Bierzesz ile chcesz!
Podróż koleją odbywa się bez limitu bagażu! Dokładnie odwrotnie niż w przypadku linii lotniczych, które obciążają pasażera kosztami przewozu każdego nadprogramowego kilograma.
Zagubiony bagaż? Nie tym razem
Niejednokrotnie zdarza się zagubienie bagażu przez linie lotnicze. To, dla pasażera, sytuacja mało komfortowa, która powoduje stres, stratę czasu, a często także wymagająca dodatkowych wydatków. Natomiast podczas podróży pociągiem zgubienie bagażu jest właściwie niemożliwe! Chyba, że pasażer zapomni go ze sobą zabrać wysiadając.
Pociągi oferują większą przestrzeń
Niestety, linie lotnicze zwiększają średnie obłożenie samolotów wcale nie zmieniając ich na większe. Zwiększając zagęszczenie siedzeń uzyskują odpowiedni efekt ekonomiczny. W pociągach miejsca jest zdecydowanie więcej niż w samolocie. Przewoźnicy dbają o komfortową podróż pasażera.
Kolej "niewrażliwa na pogodę"
Co więcej, pociągi (wyłączając z tego najbardziej ekstremalne sytuacje) są niemal "niewrażliwe na pogodę". Niestety nie można tego powiedzieć o samolotach uziemionych np. z powodu mgły, czy innych warunków atmosferycznych nie pozwalających na bezpieczny lot. Również, co też ważne, zdarzają się pasażerowie, którzy po prostu nie mają wyboru z powodu strachu przed lataniem.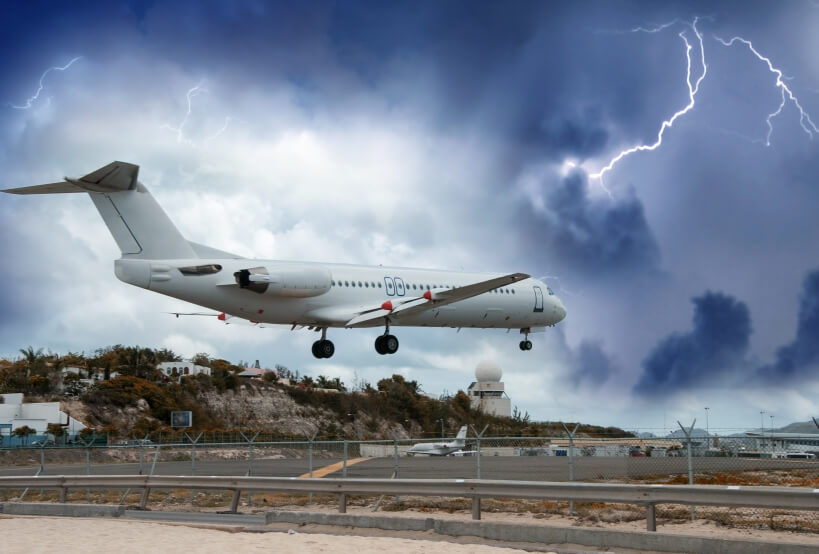 ! Ciekawostka. Na wielu europejskich trasach pociąg wygrywa z samolotem.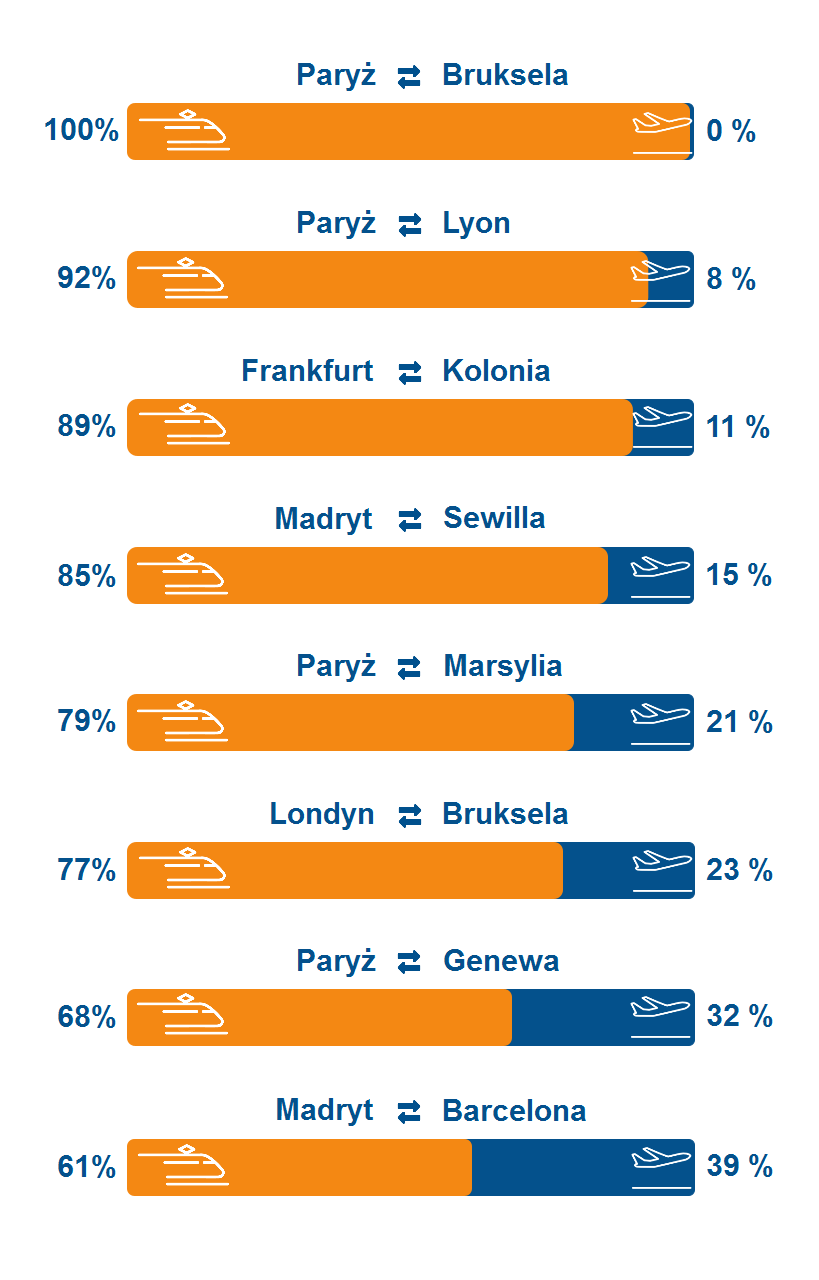 Troska o środowisko
Pociągi zdecydowanie mniej zanieczyszczają środowisko. W 2009 roku przygotowano raport, z którego wynika, że gdyby ludzie zamiast korzystać z krajowych połączeń lotniczych, podróżowali na tej samej trasie pociągiem, to emisja dwutlenku węgla zmalałaby 29-krotnie.
Pociąg gwarantuje więcej swobody
Obecnie większość pasażerów zabiera w podróż urządzenia elektroniczne (smartfon, tablet czy laptop). Na pokładzie samolotu jest to utrudnione, w niektórych fazach lotu wręcz zabronione. W pociągu podróżujący może robić co chce i kiedy chce.
Po uwzględnieniu wszystkich składowych podróży okazuje się, że przejazd szybkim pociągiem nawet na kilkuset kilometrowej trasie zabiera mniej czasu od lotu samolotem, a poza tym posiada zdecydowanie więcej zalet przemawiających za wybraniem tego sposobu podróżowania.
Zarezerwuj on-line już teraz bilet na podróż koleją. Tylko w naszym serwisie - PolishTrains.eu