Szwajcarska kolej panoramiczna - GoldenPass
Pociągi panoramiczne to jeden z lepszych sposobów na zwiedzenie Szwajcarii. Po drodze mijają przełęcze alpejskie, lodowce, malownicze miasteczka, przełomy rzeczne, ośrodki narciarskie. Aby złota podróż koleją po Szwajcarii stała się rzeczywistością koniecznie należy skorzystać z oferty Ekspresu Złotej Przełęczy.
Ekspres Złotej Przełęczy
Linia GoldenPass to pierwszy na świecie pociąg panoramiczny wprowadzony do użytku między Montreux i Zweisimmen. Jest to wspólna nazwa dla kilku pociągów. Są to Golden Pass Panoramic, Golden Class Classic i Chocolate Train. O tym ostatnim można przeczytać w osobnym artykule: "Słodka podróż pociągiem".
Pociągiem po Szwajcarii
Przejazd pociągiem zapewnia niezwykłą podróż przez najpiękniejsze regiony Szwajcarii. Od bogatej w tradycję centralnej Szwajcarii do malowniczego Jeziora Genewskiego. Łączy historyczną Lucernę, a następnie Interlaken, z pokrytymi śniegiem szczytami w regionach Jungfrau oraz słoneczne Montreux nad Jeziorem Genewskim.

Ekspres Złotej Przełęczy (GoldenPass Line) to pociąg, który okrąża osiem jezior, sześć kantonów, trzy przełęcze górskie i dwa regiony językowe.
Kolej na luksus
Golden Pass Panoramic to nowoczesny pociąg złożony z wagonów panoramicznych pierwszej i drugiej klasy, łączący Lucernę z Interlaken. Z kolei Golden Pass Classic to cieszący się dużą popularnością pociąg zestawiony z wagonów wyprodukowanych na wzór tych, które kursowały w latach 30. ubiegłego wieku. Uważany jest za jeden z najbardziej luksusowych europejskich pociągów. Będąc na pokładzie panoramicznego Ekspresu Złotej Przełęczy pasażer może napawać się widokami przez wysokie panoramiczne okna, a korzystając z miejsc oznaczonych jako VIP mieć widok z perspektywy maszynisty. To jedyna linia kolejowa w Szwajcarii oferująca takie miejsca.

Opuszczając Montreux, pociąg wznosi się nad Jeziorem Genewskim, co pozwala rozsmakować się w cudownym krajobrazie i podziwiać piękno jeziora. W Jaman, pociąg wjeżdża w tunel. Potem przemierza doliny i kieruje się do słynnych kurortów Châteaux d'Oex i Gstaad. Ekspres Złotej Przełęczy dociera do punktu kulminacyjnego na wysokości 1274 m n. p.m. i zatrzymuje się w miejscowości Zweisimmen, skąd podróżny może kontynuować podróż z GoldenPass Panoramic w kierunku Interlaken i Lucerne.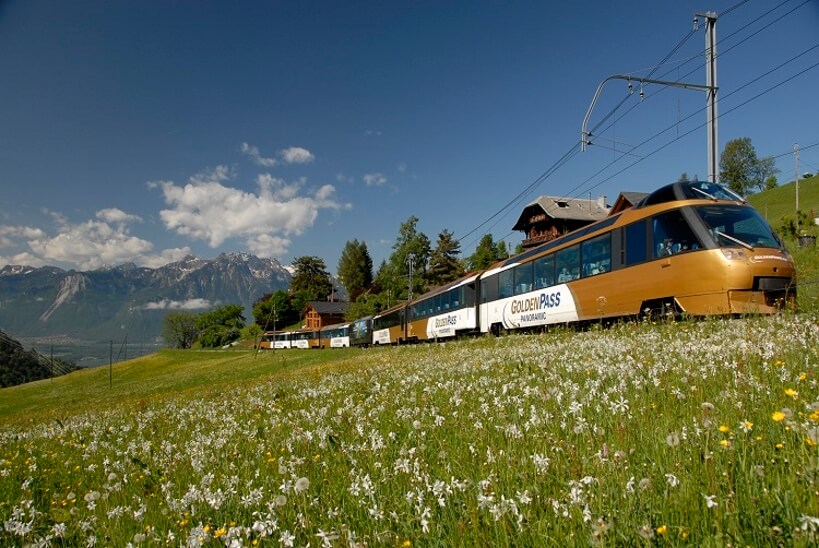 To spektakularna podróż w pociągach panoramicznych jadących z centralnej do zachodniej części Szwajcarii. Gwarantuje podróżnym unikalne wrażenie i możliwość podziwiania wspaniałego krajobrazu.
Bilety na tę podróż koleją panoramiczną można kupić w naszym serwisie – PolishTrains.eu. Zapraszamy do rezerwacji biletów.